Many people do not like snow, the cold, or winter. They don't enjoy bundling up and trudging through the slush. They dream of palm trees and sunny beaches all winter long. These people most likely do not live in Massachusetts and are probably not children. While some children don't enjoy the snow, others find the white blanket that covers the ground to be the perfect addition to their outdoor fun.
Snow and winter may not be your cup of tea, but your kids are sure to love this time of year. Not only are the holidays right around the corner, but the snow is fun for them to play in! Even if you don't enjoy rolling around in the cold, white stuff, there are several fun things that you can do with your kiddos to enjoy all that winter has to offer.
Spending quality time with your kids is important, and playing outside during the winter is a great way to get out and stay active while having a ton of fun. At Inch By Inch Child Care, we know the importance of spending time with your kiddos and getting them outside. Playing in the snow and doing other winter activities is a great way to help your kids be active, adventurous, and make some great family memories together.
In this blog we are going to go over some ideas for different activities you can enjoy with your children during the winter. Read on for ideas that are perfect for the winter season. We also know that some winter days you just want to spend time inside, baking cookies, and watching Christmas classics, so we will give you some fun indoor winter activity ideas as well!
The Outdoors
Building Blocks of Fun
Snow is not just beautiful to look at, it is perfect to build with as well! If the snow is wet enough, it can be packed together to create many different things. Build a snowman with your kids in your front yard, find an old hat, scarf, mittens, and allow your children to decorate the snowman. Use rocks to create the snowman's face and add buttons, use sticks in the yard for arms, and let your kiddos add whatever else they want to the snowman. They can even build their own and you can display your family of snowmen proudly in your front yard. This is a fun activity that can be tiring for the little ones, perfect before a nice quiet night with hot cocoa and a movie.
Building a fort, an igloo, or a snow castle can be a fun activity for your kids as well. Whether you build individual snow blocks first and start piling them up, or you simply build walls straight out of the snow, this can be a great way to spend a snowy winter day.
If your children are a bit older, help them build forts and allow them to have a snowball fight, if they stay in their forts, they are likely to not hit each other with the snowballs, but it is a fun game for your kids to play during the winter.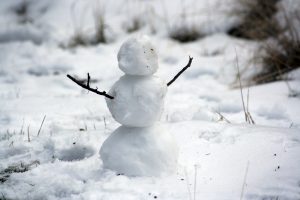 Head for the Hills
A classic winter favorite activity is sledding, another great option for you and your family. Invest in some high-quality sleds that your kids will love for years. Drive around town to find the best sledding hills and get started! Sledding is fun for just about everyone, even the family dog will enjoy running after the sled and you speed down the hill. This is a great activity for the whole family and a great way to enjoy the snow. Your older kids may enjoy building a jump on the hill to add an extra thrill to the sledding experience.
Ice Skating
While skating on any random lake that appears frozen may not be the best idea, there are probably areas that you and the family can ice skate outside. A mall, park, or popular area of the town may have some outdoor rinks. An article from massvacation.com lists a few of the best outdoor ice skating rinks across Massachusetts. Take a day trip and hit one of these locations to enjoy a day of ice skating with the family! This could be a fun activity that your kids will love.
The Indoors
Baking
While the winter snow can be fun to play in for everyone in the family, some days are better spent indoors. And one of the best winter activities that can be fun for your and your kiddos is to bake! Bake cookies, cupcakes, pies, or other fun and easy treats. Chocolate dipped pretzel sticks are a great holiday choice and they're fun for your kids to make. Or bake some sugar cookies and allow your children to decorate them with frosting and sprinkles. Kids love being able to decorate their own cookies, and it will give them a reason to help you in the kitchen!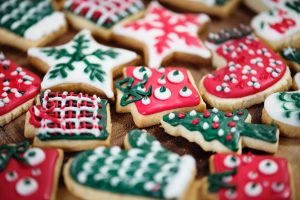 Holiday Fun
Obviously, holidays are a big part of winter. So, you will most likely be doing some of these things anyways, but they are a good way to spend family time together. Spend a night reading some holiday or winter themed books while wrapped in blankets by the fire. Make some hot cocoa for you and your kiddos and enjoy sipping it by the fire. This is a great way to warm up after playing in the snow. Or watch a holiday-themed movie with cocoa and blankets. These are great ideas for the night after a long day in the cold. Warm up together and enjoy some holiday favorites.
Flashlight Tag
This may not be an idea you have thought of, but flashlight tag is a great game for winter. Since it gets darker outside earlier in the winter, it is the perfect time to play this game. Start by finding flashlights for everyone and separating your family into two teams. One team counts in one room with the door closed with the other quickly find a hiding spot in the dark house to hide. Make sure the hiding team turns their flashlights off! After a set amount of time, the counting team uses their flashlights to find the hiding team. This is fun for kids and the entire family!
These are a few of the many different activities you can do during the winter. Spend some quality time with your family and make new memories with these fun ideas. At Inch By Inch, we encourage fun family time! Learn more about our school and enjoy this winter season with your family!