Creativity is normal in a child, but some children do not have as much of a creative spirit as others. Creativity is important for children to develop as they grow. It can help with problem-solving skills, boost self-confidence, and help your child think about the world differently.
Keeping your child creative shouldn't be difficult, simply let them play! But with technology constantly capturing the minds of your children, it can be hard for them to think creatively. This winter, get your child's creative mind stimulated with some fun winter activities!
At Inch By Inch Child Care, we provide our students with a stimulating environment that encourages creativity. But we know that it is equally important that you encourage creative thinking in your home as well! During the winter months, it can be hard to think of fun activities to do with your children, that is why we are are going to help! In this blog, we are going to discuss some of the best winter activities you can do with your children to encourage creativity.
Build a Fort
Building a fort is a fun way to spend a cold winter day. Get sheets, couch cushions, folding card tables, and other items around your home to create a fort with your children. Let them take control and make the plan for the fort. Does it need an escape route for when the snow monster comes? Does it need a room to hide all the snacks? Is this fort a castle on the edge of a waterfall in their minds? Or maybe it is a deep and dark cave? Let your children get creative and come up with the craziest ideas possible for their fort. You can enjoy hours of entertainment with the help of a fort.
Build with Snow
As the snow continues to fall in Bedford, get outside and build something! Not a snowman, that will not encourage a ton of creativity. Of course, if your child wants to build a snowman, let them! But you can suggest building other things, like a small snow town, an animal, a snow fort (win-win), an army of snow people, or anything else they can think of. While snow is not always the easiest to build with, you can get creative and help your children build something unique. Even a snow castle would be a great option, just break out your beach toys!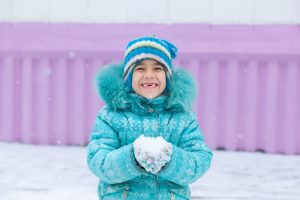 Make a Movie
When you were younger, did you ever use your parents' camcorder to make movies with your siblings? This is a fun way to spend the day with your children and encourage creativity. Let them make up a storyline, break out the dress up clothing, and let them create a movie that they will remember forever! Be their cameraman and stand back and watch their creative mind go to work. You will be amazed at what they come up with. You may need to be the peacekeeper from time to time. Your kiddos may end up liking their own ideas more than their siblings.
Have a Tea Party
Tea parties are a classic activity that kids love. Make this tea party exciting and fun. Get dressed up in fancy clothes, have your child send invites, and make up fake characters. Let your child create a tea party that they would love to attend and let them get as creative as possible with it. Ask them to invite their closest friends (stuffed animals) and let them tell you about each of them. When kids are playing pretend like this, they are able to get very creative.
Play Pretend
Not all kiddos love tea parties, which is why playing pretend, in general, is a great choice. Again, break out the dress up clothes and let them create their own characters. Is one of them a superhero and one the bad guy? Or maybe they are both spies trying to recover a precious jewel that was stolen. Whatever they come up with, go along with it. Ask them questions to challenge them about the storyline and let them continue to come up with new ideas.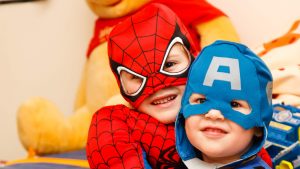 Do Crafts
Crafts are another great activity for a fun winter day. Don't plan the crafts, simply bring out all the craft supplies you own and let your children go wild! You may want to lay some newspaper down to help keep the mess to a minimum. Letting your kids do whatever crafts they want gives them the creative freedom to express themselves. Maybe they will paint or maybe they will make something from the beads you have collected, but whatever they make, they are being creative, which is the goal!
These are a few of the many activities you can do in the winter that will encourage creativity in your kiddos. Learn more about Inch By Inch Child Care in Bedford and let us help keep your child creative as well! Contact us with any questions you may have.